Temperatures are dropping and leaves are turning, days are getting shorter and guys and gals all over are trading in rods and reels for guns and boots. Summer is gone. But that means autumn is here, and with autumn comes change, and change is a good thing!
The change began early for us this year. It all started after we looked at a fishing cabin, 15 miles northwest of my hometown, Ogallala Nebraska, on storied Lake McConaughy. After a couple of handshakes and a few signatures, we were the proud new owners of a little lake getaway. Between hauling away old junk and replacing it with new junk, soon we were spending every summer weekend at the lake. This means more time back west, more time with family, and more time catching fish.
But it doesn't stop there, Whiskey n' Walleye is changing too. Constantly growing and adapting, my goal for Whiskey n' Walleye is to provide a first-hand account of my life as an angler in the Midwest, providing helpful advice and inspiring pictures to fuel the fishing fire in your own heart. The first step in that direction is creating brand recognition.
If I asked, "What company makes the green tractors in that field?" most of you would answer, "John Deere," and would be correct. That's brand recognition and the simplest way to achieve it is with a logo. All brands need a logo, and Whiskey n' Walleye is no different. I present to you, the new, the original, the one and only, Whiskey n' Walleye logo!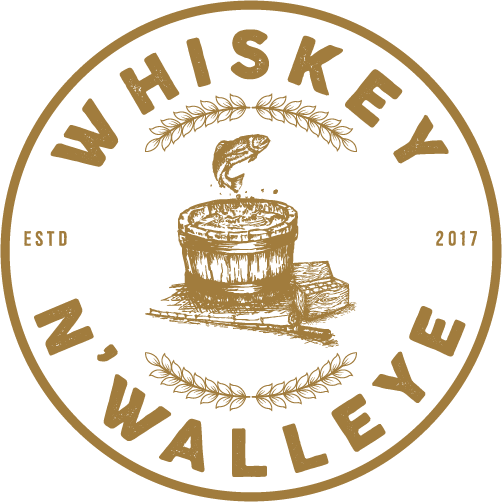 My greatest passion is not just catching fish, although I love to do so, my passion is putting my friends on fish, showing my dad a new fishing trick and meeting new anglers at new lakes. That's what Whiskey n' Walleye is all about and that's what we represent. Our brand is not intended to separate or divide, but rather to inspire connection and bring anglers everywhere together.
The Whiskey n' Walleye logo is designed to symbolize the constant burning for adventure that lives in all of us. The tackle box and pole for your tools, the wheat for the land beneath you, and the whiskey barrel to ease the return home. So if you see the emblem bouncing down the interstate in front of you, frozen on the ice behind you, or sitting on a barstool next to you, stop and honk, give me a wave or let me buy you a cold one!